Meredith Donovan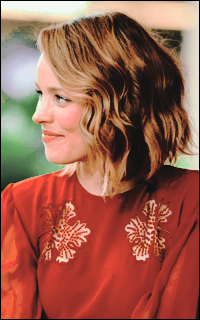 posts : 35
avatar : Rachel McAdams
crédits : hershelves.
multinicks : Bane, Diego, Reva



SECRET GARDEN
post-it sur le frigo:
relationship:

Sujet: ♂ – blank space Mar 31 Oct - 20:32

---





---

♂ mitch nom au choix – entre 37 et 50 ans - avocat (négociable)  - veuf  - libre
Mitch était le premier patient de Meredith lorsqu'elle est arrivée à Monterey il y a quelques semaines. Il venait au cabinet sur ordre de son entreprise qui lui avait dit de commencer une thérapie s'il voulait garder son travail. La jeune femme fut touchée par l'histoire de Mitch. Rapidement, elle s'est rendue compte que l'attitude de Mitch à son égard dépassait la relation psychologue/patient et elle l'a alors recommandé à un confrère.  Ce qu'elle n'avoue pas c'est qu'elle a été flatté de cette attention et qu'elle ne se faisait pas entièrement confiance. Elle a donc préféré qu'il consulte quelqu'un d'autre afin d'être en accord avec le serment qu'elle a pris en devenant psychologue. Depuis elle le recroise dans les couloirs du cabinet et il ne peut s'empêcher de lui faire remarquer que puisqu'il n'est plus son patient, elle devrait pouvoir accepter de boire un café en sa compagnie. Si Meredith n'avait pas la tête à cela puisqu'elle était venue en ville essayer de recoller les morceaux avec son mari, elle commence à se demander si elle ne devrait pas se laisser tenter par un café voyant que lui refait sa vie avec une autre.  
idées avatars : J'ai pensé à  Ryan Gosling, Bradley Cooper, Robert Downey Jr., Cillian Murphy, Channing Tatum, James Franco, Eric Bana, Benedict Cumberbatch, mais on peut en parler ensemble.


_________________




I was born to love you and nobody else will do. I would rather die than live without you and everybody know it too. Don't know why we go to war but the one thing that's for sure I was born to love you. I know I, I was born to love you.